Falcons Free Agents to Let Walk:
Jonathan Babineaux, DT
(getting into unproductive zone in years - too much money, not type of DT we need - being replaced)
Peria Jerry, DT
(like the Sopranos, "its over")
Joe Hawley, OC
(you will see why in a minute)
Chase Coffman, TE
(not getting any touches, must be in Falcons doghouse like he was in Cincy on HardKnocks)
Jeremy Trueblood, RT
(waiver white trash)
Omar Gaither, LB
(who?)
SALARY CAP:
$126.6 million = 2014 cap (announced yesterday)
$116.9 million
= Cap figures for 2014 for top 51 Falcons under contract next year
http://overthecap.co...lcons&Year=2014
$ 9.7 million = currently under 2014 cap
Moves to create cap room:
$7.00mm -
retire Tony Gonzalez
$5.25mm -
cut Asante Samuel
$3.00mm -
cut Thomas DeCoud
$2.00mm -
cut Stephen Nicholas
$1.30mm
-
cut Garrett Reynolds
$18.55mm = additional cap savings
$7.5mm COST = rookie salary pool for Falcons w/ top 5 picktowards 2014 cap
$20.75mm under cap after all moves above (net of rookie pool)
Re-Sign current Falcons:
Corey Peters, DT - 3yrs, $9mm = $3mm/yr towards capRobert McClain, CB - 2yrs, $4mm = $2mm/yr towards capDominque Franks, CB - 1yr, $1.3mm = $1.3mm/yr towards capMike Johnson, OT - 1yr, $1mm = 1.0mm/yr towards cap (one more chance to prove he can be healthy/productive - last chance!)
Unrestricted Free Agents from other Teams
Alex Mack, OC-Browns, 6'4", 311lbs
- let's face it, Konz is a back-up at best and Hawley is a free agent(let go) that has not shown enough in four years on the team. Mack is a "top 5" center in the game and we know that the center is the quarterback of the offensive line - won't be cheap but will be worth it. Konz goes to the bench to back-up at center and guard positions.
CONTRACT: 6yrs, $39mm - $18mm guaranteed - $6.5mm/yr average towards cap
Arthur Jones, DT-Ravens 6'3", 315lbs

-
this guy played for a champion(Ravens) and is an emerging force as a run-stopper and pocket collapser in the pass rush.
CONTRACT: 4yrs, $19mm - $9mm guaranteed - $4.5mm/yr average towards cap
FINAL CAP for 2014 $124.15 cap ($2.45mm cap remains)
NFL DRAFT - FALCONS:
The Falcons will likely go either 0-3 or 1-2 over the next three games. If we go "ofer" then we will lock-up the #2 pick in the draft. If we go 1-2, then we will likely pick around #5. The only round where the pick difference will matter is in round#1. Here goes:
1st round - #1-002-Jadeveon Clowney(DE)-6'6", 268lbs-South Carolina
OR
1st round - #1-005-Khalil Mack (OLB)-6'3", 245lbs-Buffalo
2nd round - Gabe Jackson(OG)-6'3", 340lbs-Miss. State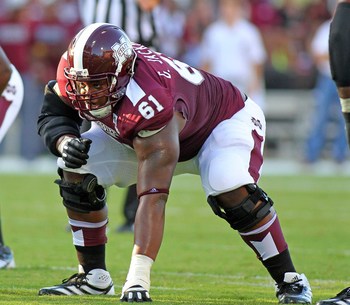 3rd round - Daniel McCullers(DT)-6'6", 351lbs-Tennessee4th round - Jeremy Attaochu(OLB)-6'3", 242lbs-Georgia Tech5th round - JC Copeland(FB)-6'1", 270lbs-LSU6th round - Aaron Murray(QB)-6'1", 208lbs-Georgia7th round - Marcel Jensen(TE)-6'6", 270lbs-Fresno State